People that purchased this product also purchased :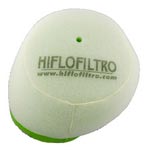 Yamaha YZ450F (2003 to 2009) Hiflo Air Filter. Hiflofiltro Manufactured using a special dual layer foam Foam formulated to maximize filtration with optimum air flow for improved power.
Silkolene Comp 4 SX 10w40 off-road motorcycle Oil. Synthetic, 4-stroke ester based multi-grade engine oil for Yamaha off-raod Motorcycles.
Yamaha YZ450F (2003 to 2008) Hiflo oil filter. Engineered to extreme quality standards to provide ultimate engine protection.