People that purchased this product also purchased :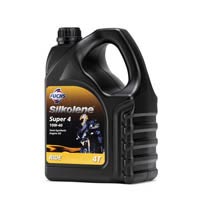 Silkolene Super 4 10w40. Semi-synthetic Super 4 10w40 four stroke engine oil, with MC-Syn Technology, for all modern motorcycles. Available in 1 litre or 4 litre bottles.
Silkolene Brake and Chain Cleaner. Removes dirt, dust, grease, oil and brake fluid from motorcycle brakes. Powerful motorcycle chain cleaner that efficiently removes heavy residues and deposits
Silkolene Contact Cleaner. Its vigorous penetration and quick drying action make it perfect for cleaning fouled plugs, dirty points and other precision parts.