Daelim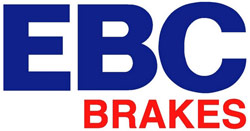 EBC Brakes have become the largest manufacturers of disc brake pads in the world and are worldwide leaders in motorcycle road and race brakes. They have developed a range of brake pads for every aspect of motorcycle braking for Daelim Motorcycles and Scooters.
FA organic series are a superb all round value-for-money replacement for all levels of motorcycle and are still extremely popular with many riders who prefer the "feel" of organic pads. FA Series Double-H pads benefit from the highest friction HH rating for maximum stopping power, sintered copper alloy like original pads for longer life and perfect braking under all riding conditions; wet, dry, hot or cold. We have listed the brake pads for your motorbike, simply decide what compound you want, and whether you want front, rear or both. If your bike is a twin disc model, then both pads sets are included.
Daelim VJF250 Roadwin / VJF250 Roadsport (2008 to 2013) EBC Front Brake Pads (FA142) and Rear Brake Pads (FA197). Available in either:- 'FA Kevlar' Series or 'HH' Sintered Series.
Daelim SQ250 Freewing S2 (2006) EBC front brake pads (SFA142) and rear brake pads (SFA197). Available in either:- 'SFA Scooter' Series or 'HH Scooter' Sintered Series.