People that purchased this product also purchased :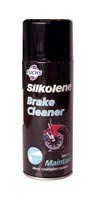 Silkolene Brake and Chain Cleaner. Removes dirt, dust, grease, oil and brake fluid from motorcycle brakes. Powerful motorcycle chain cleaner that efficiently removes heavy residues and deposits
The Scottoiler Crampbuster (Standard) is designed to take the strain out of riding, a simple but effective cruise control device.
Scottoiler 500ml Oil Refill. The Scottoil Range has been developed specifically for use with Scottoiler motorcycle chain lubrication systems.