People that purchased this product also purchased :
Honda CRF250L (2013 to 2014) Hiflo oil filter. Engineered to extreme quality standards to provide ultimate engine protection.
GT85 Professional Maintenance Spray Lubricant. Non-sticky Lubrication, Effective Penetrator, Water Displacer, Rustproofer, With PTFE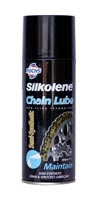 Silkolene Semi-Synthetic Chain Lube. Advanced, semi-synthetic aerosol lubricant specially designed for high performance motorcycle chains.